The next time you pass the Hewlett Fire House, to pick up some donuts -- take a moment and look UP!
At the corner of Franklin and Railroad Avenues is a building which displays roofline crenellations, an architectural element more common to castles than to donut shops. One hundred years ago, it was the site of the Hewlett Embroidery Works. The firm specialized in Swiss Embroidery (also called
broderie anglais
), a white-on-white variety of lace which was very popular in the Edwardian world.
The Hewlett Embroidery Works
was incorporated in New York on May 3, 1911 The firm, whose corporate offices were located on East 18th Street in Manhattan, manufactured and sold embroideries, laces, silk, wool, cotton, linen and other textile fabrics. The President of the company was Albert Brenwald of Woodmere; Henry Ruppert of New York City is listed as Secretary, and Charles Englehard of Roselle, NJ as Director.
Brenwald (also spelled Brennwald) (born 1874 in Zurich, Switzerland) emigrated to the U.S. in 1902. He lived on Brower Avenue with his wife, Anna, and son, Adolph. He and Ruppert (also a Swiss native) formed their partnership in 1909. Apparently, Brenwald had the embroidery expertise; his partners had the business experience.
Workers
The 1912 New York State Register of Factories lists a workforce of 6 men and 22 women at the Hewlett Embroidery Works
(2)
. In 1914 a branch site opened at Pitz's Hall in Lynbrook, which employed 100 female operators
(3)
.
An average female embroidery worker earned about $387 a year. A two week vacation at half pay was a luxury and any minutes they did not work were deducted from their time at the end of the week. This was an era of sweatshops, where workers tolerated overcrowding, long hours (average 53-hour work-week and low wages in factories to support themselves and their families.(4) The
1911 Triangle Factory fire
, which took the lives of 146 workers trapped in the burning building, served as a catalyst for better working conditions, through union intervention and government legislation.
As early as 1891, a
Ladies' Home Journal
article described a group of embroidery workers who decided that if each worker could spare ten unpaid minutes a day, they could read to each other. In this way, they got 800 minutes a day, 1800 minutes a week, etc. of reading accomplished during their working hours (5). In 1900, only 19 percent of women of working age participated in the labor force and children comprised 6 percent of the labor force (6).
Later History of the Company
With the start of World War I, the market for decorative lace diminished. Over the next few years, the firm's management changed -- Ruppert is listed as Secretary and Director in 1915. and in 1917 and 1919 , Milton J. Gordon is listed as President and Treasurer
(7)
. Mary Simon was Secretary and Director in 1918. Albert Brenwald's family relocated to Chicago, Illinois, where he died in 1925.
By 1922, The American Textile Reporter lists the Hewlett firm under the name Sands and Appel Embroidery Works . Sylvester Sands (d.1934) and Moses Appel (c1858-1934) owned several factories in New York City, one of which was involved in a fire in November 1905, which was an eerie harbinger of the Triangle fire (8). The firm
was dissolved by Proclamation on March 12, 1926.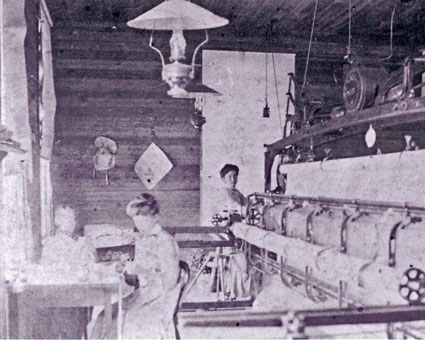 Ladies working at the loom at the Kursheedt embroidery factory in Tennessee.
The Smith family recruited the factory from New York.
It made fine Hamburg lace and during World War I, i
t produced patches for military uniforms. (Lewis County Museum)
Further Information: