Our exhibit of posters from World Wars I and II demonstrates the power of the graphic image to inspire, inform and persuade. The collection, a gift to the Library from former Hewlett Bay Park resident Blanche Cirker, offers highlights of the ad campaign created by the U.S. government to inspire patriotism in its citizens during a time of personal sacrifice and heightened responsibility. Mrs. Cirker and her husband,
Hayward,
founded Dover Publications in 1941.
The display cases show a more personal side of the wars, mementos and photographs from the Library's collection and private collections from the community.
The exhibit will be on display in the Gallery and the Reference Room from
November 6, 2013 through January 5, 2014.
New York State residents comprised 10% of the American armed forces during WWI.
1
Over 493,000 New Yorkers enlisted for the Regular Army, National Guard, Navy, Marine Corps, Coast Guard and U.S. Guards
2
, between April 9, 1917 and November 11, 1918.
3
Draftees from New York and Long Island usually were processed and trained at
Camp Upton
in Yaphank, later the site of Brookhaven Laboratory. The men of the
77th Infantry Division
, most of them from Long Island and New York City, trained there before sailing for battlefields in France. Nicknamed "The Metropolitan Division," they sported a Statue of Liberty emblem patch on their uniform.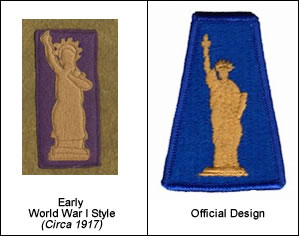 World War I – known at the time as "The Great War" - officially ended when the Treaty of Versailles was signed on June 28, 1919, in the Palace of Versailles outside the town of Versailles, France. However, fighting ceased seven months earlier when an armistice, or temporary cessation of hostilities, between the Allied nations and Germany went into effect on the eleventh hour of the eleventh day of the eleventh month. For that reason, November 11, 1918, is generally regarded as the end of "the war to end all wars." -- from "History of Veterans Day" (Veterans' Administration Web Site)
"On September 16, 1940, the United States instituted the Selective Training and Service Act of 1940, which required all men between the ages of 21 and 45 to register for the draft. This was the first peacetime draft in United States' history. Those who were selected from the draft lottery were required to serve at least one year in the armed forces. Once the U.S. entered WWII, draft terms extended through the duration of the fighting. By the end of the war in 1945, 50 million men between eighteen and forty-five had registered for the draft and 10 million had been inducted in the military." -- National WWII Museum
4
As Nassau County geared up for a possible air attack, residents experienced test blackouts and air raid drills. Rationing of sugar, gasoline, rubber, metal and other household necessities was accepted as a necessary sacrifice and War Bond and relief drives allowed citizens to make an individual contribution to the war effort. Almost every family had someone in the service, but because of its proximity to New York City, its aircraft industry and air fields and it's long coastline, Long Island residents took their defense very personally. According to a
1942 Newsday
summarizing the war's first year:
In January 1942, five airmen sacrificed their lives to avoid endangering residents as their bomber crashed in New Hyde Park.
Women and high school boys were eligible for training in manual of arms and rudiments of marching.
A local branch of the Civil Air Patrol was founded and women were informed that they would be eligible for "limited participation".
More than 50,000 men between the ages of 45 and 64 [too old for active service] registered for occupational draft.
All boardwalk and commercial lights on [the] North and South Shores were ordered blacked out by [the] U.S. Army.
On Memorial Day 1942, an honor roll of Woodmere and Hewlett men in the armed services was dedicated on the grounds of Woodmere High School.
The
memorial
now stands at the corner of Broadway and Conklin Avenues.
At the June 1943 high school graduations, many wore uniforms instead of caps and gowns.
"Diplomas were presented to 109 graduates at the 36th annual commencement of Woodmere High School. [The] Theme of the exercises was "The Four Freedoms," honor students speaking on Freedom of Religion, Freedom of Speech, Freedom from Need and Freedom from Fear as defined by the Atlantic Charter." 5
On June 7, 1944 -- as the D-Day invasion was being fought along the French coast, Long Island's religious institutions. In Cedarhurst St. Joachim's School had a special assembly, while in Lawrence Temple Israel, the Lawrence Methodist Church, as well as Trinity Episcopal Church and St. Joseph's in Hewlett opened their doors for special prayer services.
After the War, the changes which transformed Long Island left The Branch a different place. As the economic changes of the Great Depression transformed great estates into subdivisions, the GI bill and home construction on a grand scale created neighborhoods where once there had been fields. The Branch, now called The Five Towns, was forever changed. And a whole new generation moved in to start their civilian lives and raise their families.
---
1
"WWI. Total Troops Furnished by Each State." New York State Archives: Remembering World War I, 1914-1918. New York State Archives, n.d. Web. 26 Oct. 2013. http://iarchives.nysed.gov/Gallery/galleryDetail.jsp?id=3158&ss=WWI

2
The United States Guards were a formation of the Army created to guard strategic installations and areas in order to free infantry regiments for war service in the First World War.
3 "47 Cedarhurst Selectees Ready to Join Services." Newsday, February 13, 1942, p. 3.
4 "All Up to Age of 45 Must Register Here During Next Three Days," Newsday, February 13, 1942, p. 3
5 "Nassau at War - Dec. 7 to Dec. 7", Newsday, December 7, 1942, p. 3.
___________________________________________________
Further information:
Web sites
Patriotic Art and Propaganda
Dwyer, Norval. "The Camp Upton Story, 1917-1921," Long Island Forum, January 1970. pp. 6-10;
Part 2 February 1970, pp.31-34; Part III, March 1970, pp.54-57.
Books